Snorkelling Adventures | Indonesia & Philippines
Amongst all of the scuba diving, rock climbing and kayaking in South East Asia, we also go to do a lot of snorkelling. We were blessed to have seen such incredible marine life from the large turtles that move so gracefully through the water as they make their way up for air to families of clown fish (Think Finding Nemo) that love to play around amongst the coral as you are trying to film them.
The reef life that we came across in the Philippines and Indonesia was so lively and captivating, it was unreal being able to observe these underwater ecosystems so closely.
We had purchased our own snorkel sets in Thailand and made the most of our snorkelling opportunities when we could.
On the Gili Islands in Indonesia we lined up a snorkelling tour to take us out to the underwater statues near Gili Meno. The hauntingly beautiful statues were created by British Sculptor, Jason DeClaires Taylor. There are 48 life sized human figures situated in a circle which symbolise life and continuity. Each statue was created using a cast of a real person which really brings out the uniqueness of this underwater treasure.
On the way out to the statues we stopped off at a spot known for it's large turtle population and we were not disappointed. There were 7 giant turtles lying on the ocean floor and one at a time would take turns slowly making their way up for air. These turtles were easily twice the size from the ones that we had seen in the Philippines and to see so many in one spot was next level.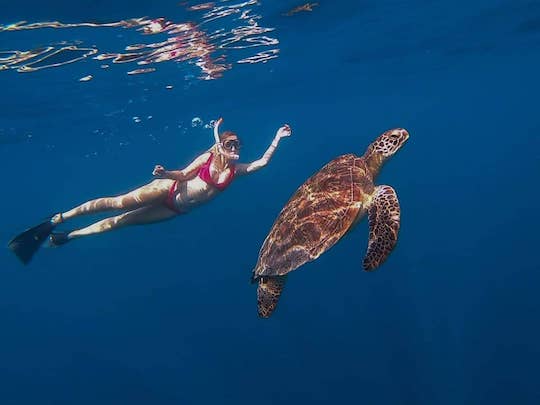 No matter how many times you see turtles or clownfish when snorkelling, it never gets old.
It was a bit nerve wracking when i accidentally came across a large Banded Sea Krait (Venomous Sea Snake) when snorkelling at Panagsama beach in Moalboal. It swam out from amongst some coral in the reef and was directly below me. I paused for a second as it gave me a shock and i waited for it to start swimming off before following it with the camera. Not realising that the neurotoxic venom of the Banded Sea Krait makes it one of the most lethal creatures in our oceans and its venom is 10 times more powerful than that of a rattle snake. Luckily i didn't know this until later when i hit up google trying to figure out what kind of snake it was.
Apart from our little snake encounter, overall Panagsama beach in Moalboal had the most to offer. The extremely healthy coral reef spans for kilometres down the beach and was literally on the doorstep of our accomodation. We got lucky as the sardines were running and thousands of them would race around you as you snorkelled through the middle of these giant schools. Not to mention the beach was empty, so when we came across our little turtle mate we could just enjoy his company without being bombarded by dozens of tourists in life jackets.
In Port Barton and El Nido we jumped on more snorkelling day tours which took us out to different islands for a day of salt, sand and snorkelling. Most of the people on our tours weren't strong swimmers so they would stay close to the boat, while we were able to swim off and explore the underwater universe. Even though the coral wasn't as prevalent, the marine life was still buzzing and we quickly became acquainted with plenty of new underwater mates.
Our snorkelling and scuba diving adventures helped Christine overcome her fear of open water and gave both of us such a stronger appreciation for the ocean and what lies beneath!
Reach out if you have any stories, photos or footage you would like us to share from any of your adventures