Shipwreck Scuba Diving | Gili Islands – Indonesia
The beautiful Gili Islands, located off the coast of Lombok in Indonesia are a 3 island archipelago made up of Gili Trawangan, Gili Meno & Gili Air. These islands are known for their incredible dive locations and marine life.
A few months prior Christine and i had completed our PADI Open Water Diver certifications in Koh Tao, Thailand. We were disappointed that we couldn't get any footage at the time so we made sure we had the equipment for our dive adventure off the Gili Islands. When you walk along the main strip of Gili T you will pass tons of different dive shops offering fun dives and certifications.
We booked in with a PADI certified dive centre and were told it would be a shipwreck scuba diving adventure
Bounty's Wreck in a sunken jetty (not technically an actual shipwreck) located just behind Gili Meno that has an average depth of 12m and a max depth of 20m which was perfect for us as we don't yet hold our advanced tickets. It's also a place we could practice non-penetration wreck diving as once again, not qualified to go inside a wreck.
As we dove down we made our way past various large coral formations that were serving as a hideout for thousands of different types of fish and marine life. Once you have been diving you really begin to have an understanding of the different world that is beneath the surface. Since we are both fresh divers (this was our 5th dive) we were still in such awe of the beauty down below.
On our way to the shipwreck our guide took us past an old bicycle that had been consumed by coral. We continued on and eventually hit Bounty's Wreck. The feeling of being able to see a wreck was unbelievable. The way that the marine life had transformed this foreign object into their home was awesome to experience. As we swam around the back of the wreck our guide pointed out this black figure that looked like a large shadow. This figure turned out to be black frogfish and was nothing like any other fish we had ever seen before, it almost looked fake.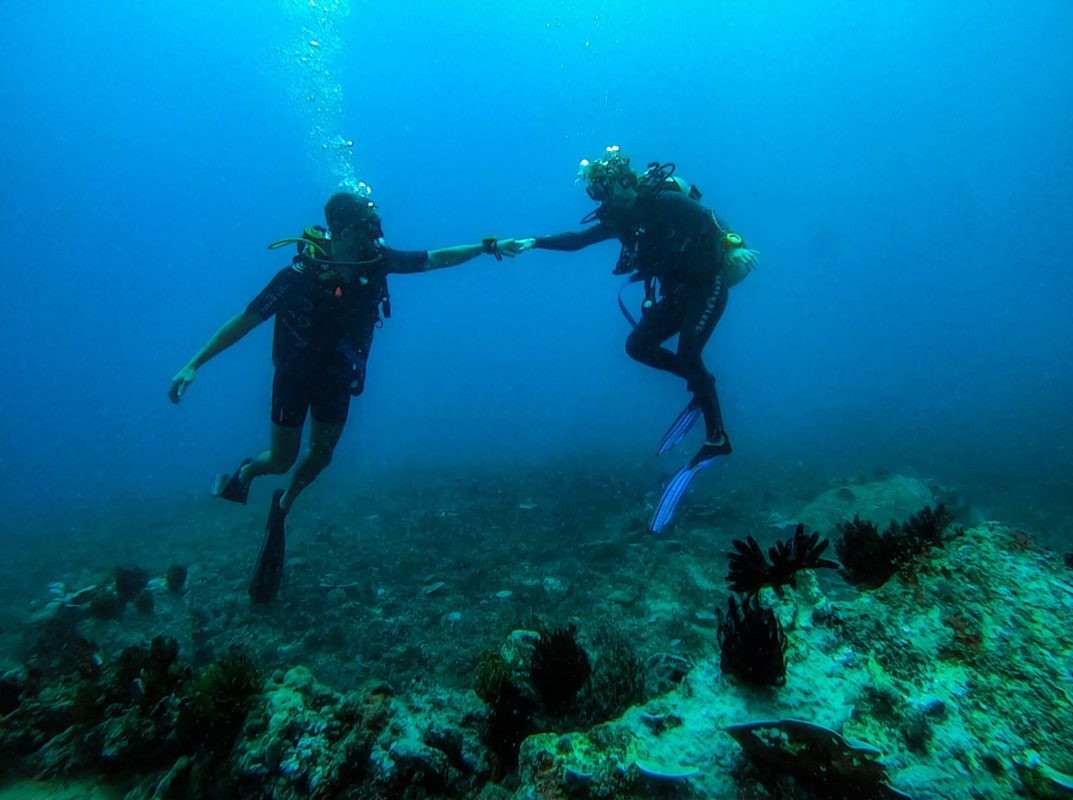 We continued our shipwreck scuba diving for a while taking in all the beauty of this underwater spectacle
I checked my air and unfortunately it was time for us to surface. I signalled to our guide that we needed to start ascending and we swam up for our safety stop. At this time Christine had spotted a large turtle but because i'd burnt through my air too quickly (rookie) we couldn't go back down to get some proper footage of it. After our safety stop we heading to the surface and just like the end of all our adventures we were both buzzing!
If you are interested in diving off the Gili Islands or looking to become certified, Lombok has direct flights from Perth which makes the islands easily accessible. We definitely recommend trying out the shipwreck scuba diving near Gili Meno!
We used Laguna Gili Dive Centre on Gili Trawangan and they were a pleasure to dive with.
Reach out if you have any stories, photos or footage you would like us to share from any of your adventures