Kayaking Adventures | El Nido – Philippines & Railay Beach – Thailand
During our travels we've kayaked in some incredible locations!
We've had a paddle in Ha Long Bay – Vietnam (One of the Seven Natural Wonders Of The World), the picturesque Big Lagoon situated on a small island off the coast of El Nido – Philippines and around the amazing Railay & Ton Sai beaches – Thailand.
Unfortunately we don't have any footage of Halong Bay but we can give you a tour around the other locations.
When visiting El Nido we had initially planned to do a 3 day island hoping tour making our way to Coron Island. Unfortunately, due to a typhoon and some food poisoning the trip was cancelled last minute. We were going to be in El Nido for a few days so decided to check out what tours they had going.
We booked an El Nido Island tour, which was going to be a full day of sun, snorkelling & kayaking adventures!
I won't go into the details of our snorkelling but the last stop of the day was El Nido's Big Lagoon. We anchored next to a few other boats and the crew signalled to the kayaking guys that we needed some kayaks. They jumped into the kayaks and paddled them over to our boat. We jumped in and off we went.
To get to the entrance you have to paddle in open water and it was a little choppy but nothing crazy. We made our way over to the entrance and before you know it you have been engulfed by these giants cliff faces on either side. The water begins to transform from a dark ocean blue to a light crystal turquoise. We headed deeper & deeper into the lagoon and were both in awe of its natural beauty. The colour of the water is something that you see in travel photos and there was luscious green vegetation strangling the rocky cliffs.
We threw off our life jackets and slowly made our way around the perimeter of the lagoon. There were many other kayakers splashing around but we never felt squished as the lagoon was massive. After we'd been cruising for a while, getting some photos and footage we started to head back. A couple guys from our boat crew were kicking back in a shallow, sandy part of the lagoon and called us over. We tied our kayak to a branch and spent the next forty minutes just taking in all the beauty and chatting with the locals.
It was the best way to finish off a massive day of snorkelling and island hopping. The sun started to set as we made our way back to El Nido and knew this was one place we would never forget.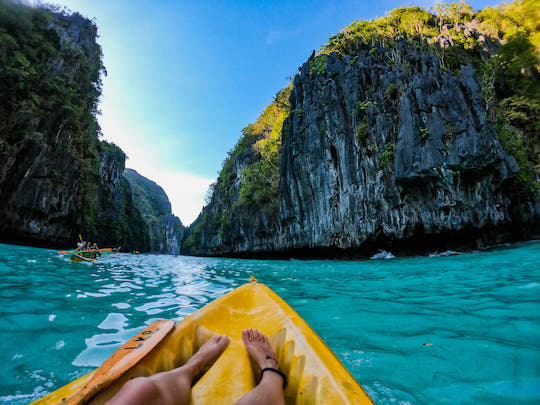 Next up we have kayaking adventures on Railay & Ton Sai Beach in Thailand.
If you have ever had the pleasure of jumping on a long tail boat from Ao Nang to Railay Beach then you know how incredible this place is. Colourful long tails all lined up across the white sandy beach while people work on their tans and play around in the water.
Rock Climbing was first on our list of things to do at Railay (Check out our Railay Beach – Beginner Rock Climbers Vlog) but after that we decided that we would get on the water and check out the limestone cliffs that line the coast. There's plenty of guys renting our kayaks along the beach so it was no drama finding one. We dragged it along the sand, jumped in and off we went.
Just around the point from Railay Beach you can easily paddle to Ton Sai beach in around 10-15 minutes depending on your fitness levels. Ton Sai is famous for its incredible rock climbing routes. We pulled into Ton Sai, dumped the kayak on the sand and walked down to see tons of climbers scaling these large cliff faces. Some had small tents at the bottom of the wall where they would set up camp so they could spend the day climbing.
After checking out all the action we jumped back in the kayak and kept following the cliffs heading back towards Ao Nang. The water was quite calm and there were lot's of long tails taxiing people to and from Railay Beach & Ao Nang. The cliffs are massive, with lot's of detail from the ocean water eroding them over thousands of years. We made our way around the massive limestone rocks and on the way back found a small cave to try and fit through. We paddled hard as there was a little bit of swell and it spat us out the other side and we started to head back.
Once you find your rhythm, it's definitely a great place to be on the water and take in the amazing views. Felt great to get some exercise in before we sat down for some cold beers!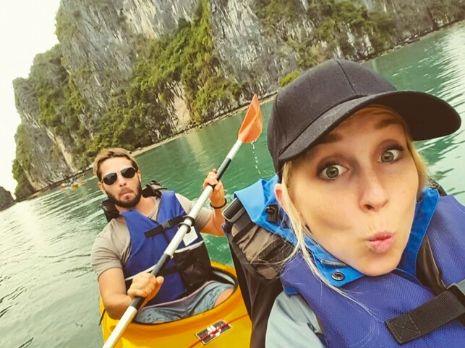 Reach out if you have any stories, photos or footage you would like us to share from any of your adventures