Hiking & Trekking | Sri Lanka – Laos – Vietnam
We clocked a ton of k's on our trekking trips throughout South East Asia. Ella in Sri Lanka had some of the most breath taking views we had ever seen. Vang Vieng in Laos tested our fitness with steep rocky climbs and the local ladies in Sapa, Vietnam showed us how unfit we were as they guided us through muddy rice fields carrying their large baskets full of garments with ease. Even though all of these places were so different, the massive feeling of accomplishment at the end of our adventures was always the same.
Hiking to Ella's Rock had us feeling like we were sitting on the edge of the world.
When we arrived to Ella in Sri Lanka we were instantly blown away by how cool this place was. A small town that was surrounded by mountains with spectacular views. We had already decided that we would be hiking to Ella's rock, Little Adam's peak and the nine Arches Bridge. The host at our home stay provided us with info on Little Adams Peak and the 9 Arch Bridge which are both in walking distance from each other so we decided to hit them up first.
After being dropped off at the bottom of Little Adam's Peak we started hiking up the up to the summit. It's not really much of a climb at 1,141m high but enough to get the blood pumping. There were zip lines and a cafe at the bottom for those that weren't too keen to head to the top. Once you arrive at the top you are instantly blown away by how cool the views are and there are three small peaks that you can jump between. From the top we could see Ella's rock which is a much harder hike and that was on the list for the next day. After we took our photos we decided to head to the famous Nine Arches bridge and hopefully catch a train going past if we were lucky.
We my have gone down the wrong track and gotten a little lost so it took us an hour to get there when its normally a 40 minute walk. Once we climbed down a small hill and hit the train tracks it was about 5 minutes until we hit the bridge. There were people scattered all over the track, some were sitting on the stone edge of the bridge with their legs hanging over the side taking selfies, others just waiting at each end for the train to come. We decided to climb down the side of the bridge into the fields where there were old ladies picking tea leaves. We managed to settle into a really good position to get some shots when the train arrived. There is no security and people just sit on the bridge taking photos and waving as the train rushes past. I remember thinking that there is no way this would ever happen in Australia. After the train we continued to walk along the train tracks for another hour before we finally got back into town and had a beer.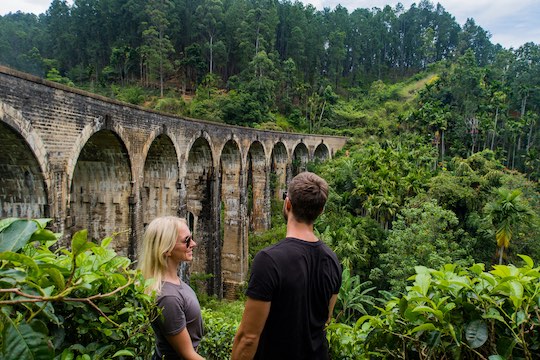 The next day we loaded our small backpacks with some food, water and the camera and off we went. A tuk tuk driver dropped us off at the train station and once again we journeyed off down the tracks trying to find our way to Ella's Rock. We had Googled how to get there that morning and it said that locals like to give you fake directions for a laugh but there are some small signs to look out for. We found the small path off the side of the train tracks and started walking alongside some rice fields which felt like someones backyard. Once we got passed the fields there were some steep tracks that we followed through what felt like a forest until we hit a cliffs edge. From here we continued through a small rocky track that was surround by tall grass. This then shot out out to another really steep climb that lead up to a gravel path. We followed the path and arrived at Ella's Rock. There were some old ladies selling fruit and water as well as a few other travellers.
Hiking to Ella's rock was definitely worth the most incredible views we had ever seen.
We had read that if you continue along a small path through what feels like a large forrest then you will get to the part of Ella's Rock that not many people know about or head to because it means more hiking. We decided that we wanted to check it out and we weren't let down. After you navigate your way though the windy forest pathway it spits you out on what feels like the edge of the world. There is a small Buddhist statue that has been situated in the side of the cliff that overlooks the mountains. We walked out to the overhanging rocks and were setting up for a photo when Christine dropped her prescription sunglasses over the edge and they were never to be seen again. Sitting on the edge of the rock looking out over the mountainous landscape was incredible and something that we will never forget. The entire hike probably takes around 4-5 hours (round trip) depending on your fitness level but is well worth it.
When we arrived into Vang Vieng in Laos there were ATV buggies parked along the side of the road and straight away we agreed that we had to take one out for a spin. We hired a buggy, hooked up the bluetooth speaker, cranked some music and off we went. Driving through the small villages along the windy gravel roads was awesome but you can't help but feel bad as the dust from the gravel covers everything in your wake. We made our way to Nam Xay Viewpoint and started the steep and rocky climb to the top. Being a standard Aussie i decided that i would be sweet to do this just wearing thongs (flip flops) which wasn't the best idea. The climb was actually pretty demanding and by the time we reached the top we both felt as though we had been through a workout.
At the top of the viewpoint there are two motorbikes that have been secured into the rocks which make for an awesome photo with the panoramic view of Vang Vieng in the background. The hike takes around 1-2 hours round trip depending on your fitness level and speed but i wouldn't recommend doing it if you have any health issues or injuries.
Last but not least was our 2 day 3 night trekking tour in Sapa, Vietnam. It took a few hours to get from Hanoi to Sapa on a sleeper bus (something you need to experience when in Vietnam). It was freezing when we arrived (compared to everywhere we had been in South East Asia) and the entire town had been engulfed by a thick fog. We spent the night and our tour guide picked us up in the morning. We walked through town to a couple of other hotels to pick up some other people then away we went.
Trekking in Sapa was hilarious as the paths were muddy, slippery and people were stacking it left, right and centre.
Our guide in Sapa was part of the HMONG tribe and was wearing bright, colourful clothing and had the best sense of humour. As we started trekking we were joined by some other older ladies from the same tribe and they would walk with us and help everyone down the slippery hills. We walked around 9 kilometres on the first day which included walking through many small villages, rice fields, the bamboo forrest and checked out some waterfalls. That night we stayed in a small homestay on the side of the mountain where we had dinner, drank "Happy Water" and played drinking games by the fire.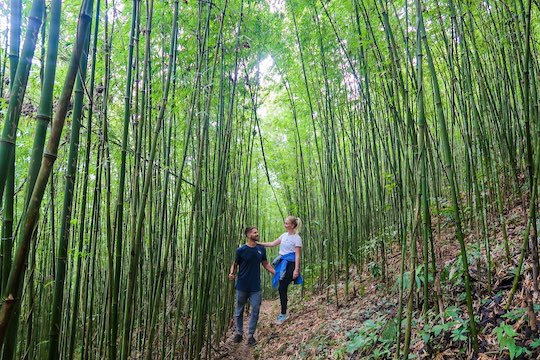 The next morning we did around 5 kilometres and made our way back towards town. We were blessed as the fog had cleared, the sun was shining and we managed to capture the incredible views of Sapa and their rice fields. We had a solid crew so the pace was fast and when we stopped for lunch the old ladies that had been helping to guide us opened up their baskets and sold us their handmade garments. Spending some time walking through the villages and seeing how the different local tribes of Sapa live was an eye opening experience. They were all so friendly and their massive smiles were infectious. North Vietnam is a magnificent place and trekking in Sapa as well as riding the Ha Giang Loop is something everyone should experience if given the opportunity.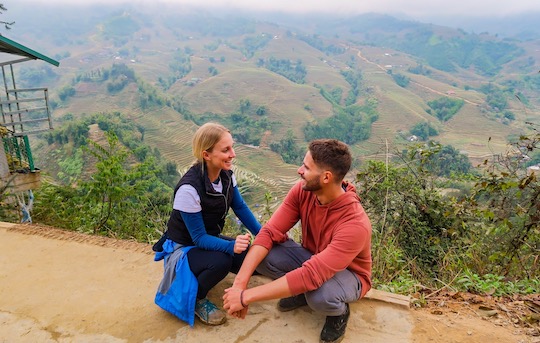 Reach out if you have any stories, photos or footage you would like us to share from any of your adventures